Mosaic tiles
have always been known for their colorful forms. The use of mosaics for home décor has made consumer popularity soaring; I personally saw its installation, and the results are really great! And good mosaic tiles need a high-quality display stand to showcase their value. Today we are going to introduce you to a mosaic display rack, let us take a look at it.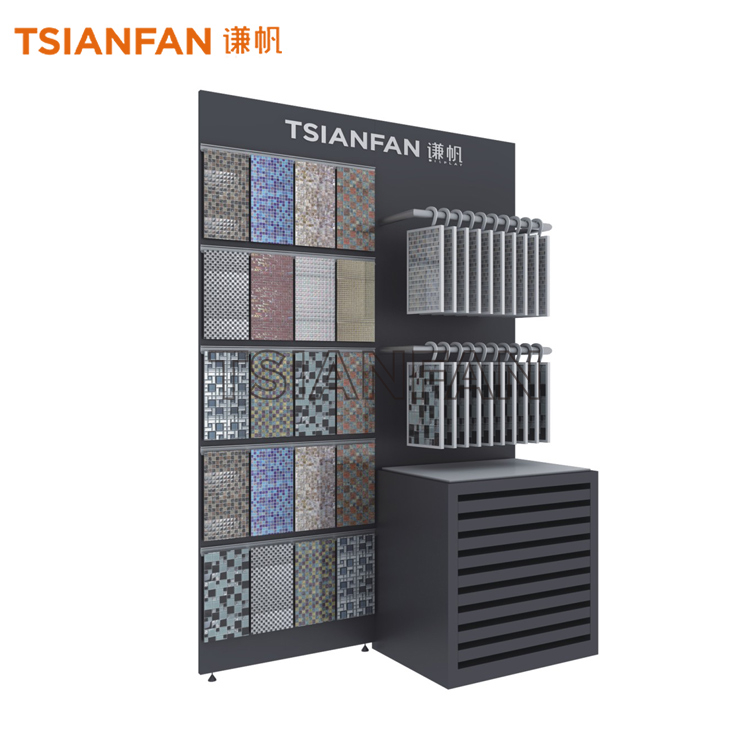 1.Made of high-quality metal, thickened steel pipe, superb welding technology, and tightly welded joints to make the display stand more stable and firm.
2. It adopts a combination of various styles, half of which adopts the structure of waterfall display rack, which intuitively displays the mosaic sample board on the display rack, which is more intuitively displayed in front of the customer. The upper part of the other half is mainly a hanging mosaic display stand. It saves space and allows customers to take and observe directly. The last part is composed of metal display cabinets, which can be placed with tiles or mosaic tiles. The drawer structure saves a lot of space resources, and can also be dust-proof and increase storage space.
3. Variety of styles, all of our display racks support customer customization, customers can give us the solution according to their own needs and the desired effect, and we can produce the most satisfactory display rack in the customer's mind.
4. High-temperature baking varnish, multi-layer baking varnish process, no paint removal.
5. Above the display rack, you can customize your own LOGO to better display your brand.
Qianfan's display rack is dedicated to the design and production of stone display racks, mosaic display racks, tile display racks, wooden floor display racks and other related products. If you are interested in the display rack, please feel free to contact us.
Website:www.mosaicdisplay.com